Local Catholic To Substitute Medium Deep Dish Stuffed-Crust Pizza For Meat On Fridays During Lent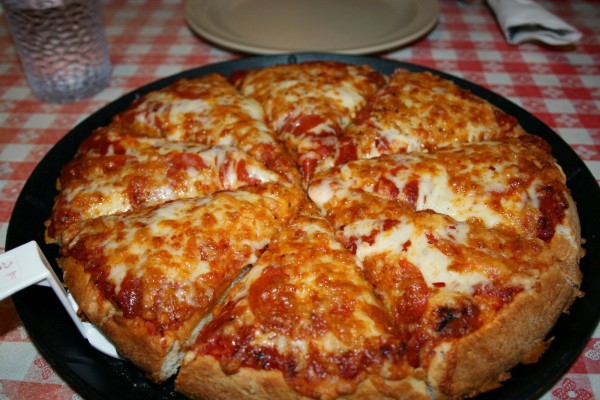 Local Catholic Ronny Edison announced today at a local Papa John's Pizza that he was officially not eating meat on Fridays during Lent, in accord with teachings of the Church.
The 24-year-old cradle Catholic explained to strangers waiting in line the reason why he had not ordered pepperoni or sausage on his pizza, saying that Catholics were forbidden to eat meat during Lent, going on to remind them that they too were obliged to fast if any of them were Catholic.
"Sorry to be such a buzz-kill, guys…I just don't wanna have to answer to God one day about not having informed you how to properly fast," he told the crowd as a medium sized deep dish stuffed-crust pizza with a side of parmesan breadsticks, cheesesticks, and a double order of stuffed cheesy bread with spinach and feta was delivered to his table. "Ahhh, Lent is so hard! Oh, how I yearn for sausage!" he continued, as he shoveled a side of garlic bread and mounds of mozzarella cheese into his mouth. "I can't believe I still have more than a month of this! But I do this for you, Jesus. Please look with favor upon this humble act of self-denial."
Edison went on to tell a family seated at the table next to him that he would have also ordered some honey chipotle chicken wings had he not so ardently wanted to unite himself  to the mystery of Jesus in the desert.
"Listen," Edison continued as he disheveled his hair to make sure people just entering the restaurant knew that he was indeed fasting. "It's certainly not easy, but I love Jesus, so Jack in the Box it is tonight. No, no…no Jumbo Jack for this guy tonight…it's Lent, and I'm just gonna settle for a small meal. Perhaps a couple of sriracha fish sandwiches, a large order of curly fries, an egg and cheese biscuit, and a couple of tacos. That's all for this penitent."
At press time, Edison is confirming whether or not Jack in the Box tacos do have actual meat in them.