Uruguayan Pastor Bites Rival Priest During Mass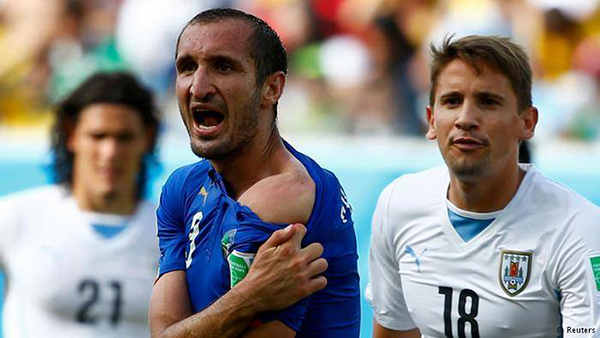 New York, NY—Just a day after Uruguay star Luis Suarez allegedly bit Italy defender Giorgio Chiellini at the World Cup, Uruguayan born priest, Father Roldolfo Pontet, is now being investigated for biting a rival priest during a morning Mass in New York.
The USCCB said early today that its disciplinary committee has opened proceedings against Pontet. If the Uruguayan priest, already banned twice for biting fellow priests after they attempted to concelebrate, is found guilty of assaulting another priest, USCCB rules call for a ban of at least two Masses.
Television replays showed Pontet appearing to attempt to sink his teeth into Italian priest Claudio Bovio's shoulder in an off-the-altar incident.
Bovio angrily remonstrated with Cardinal Timothy Dolan of New York, who was present at the Mass, pulling his vestments down to show red marks.
Afterwards a disgusted Bovio told reporters: "He bit me, it's clear, I still have the mark. His Eminence should have stopped the Mass and kicked him out of the church."
Pontet sought to play down the incident to reporters, claiming Bovio had taunted him and forced him into concelebrating.
"Why must I concelebrate?" Pontet said. "It's pointless. Can I not celebrate the Mass on my own? What people don't see is all the smack talk Bovio was doing during the Mass to get under my skin. He wanted me to react so that His Eminence would reprimand me. I did not bite him."
Pressed on the issue, a visibly irritated deacon refused to condemn Pontet, saying, "A concelebration does not make Jesus that much more present. Pontet is being vilified."
But despite Pontet's comments, video evidence of the incident appears damning. The USCCB said it would study the Cardinal's report and the Mass video.