Benedict XVI: "The Entire Vial Of Blood, Including Reliquary, Would've Liquefied If I Was Holding It"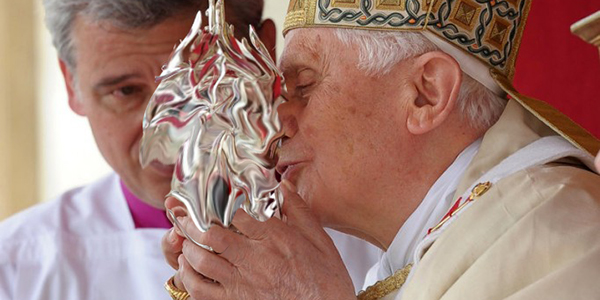 Just days after St. Gennaro's blood liquefied after Pope Francis kissed the relic in Naples, Pope Emeritus Benedict XVI told EOTT that he would be able to" liquefy the entire thing if really wanted to."
In an exclusive interview with EOTT this morning, the former pope said that the same vial of hardened blood had not liquefied when he kissed it in 2007 simply because he hadn't tried to liquefy it hard enough.
"If I had wanted it to liquefy, you better believe I would've liquefied the heck out of that thing," Benedict said as he clenched his fists and bent his neck to the side to crack it. "You wanna know something? I think it started liquefying for Francis until it realized it wasn't me kissing it, and so it stopped. I'm not saying that as fact…it's just a theory going around."
Benedict went on to say that not only would he be able to liquefy the entire vial of blood, but also the vial and reliquary as well.