Overzealous Priest Overturns The Tables Of The Money Changers In Church Gift Shop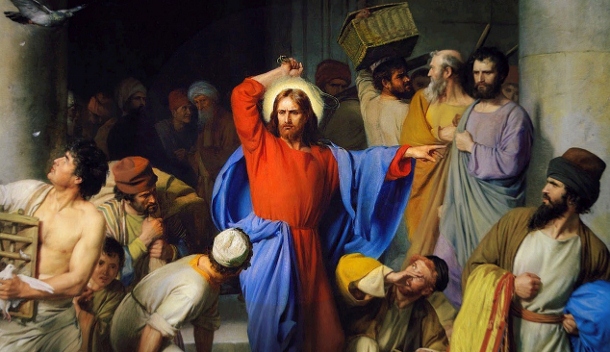 Louisville, KY––In what the police are calling a "fanatical act committed while in the state of a nervous breakdown," Associate Pastor of St. Margaret Catholic Church in Louisville, Kentucky, Father Randy Coelho, walked into the parish gift shop and began to overturn registers as well as tables containing rosaries, scapulars, and other religious goods earlier this morning.
The incident occurred shortly after the conclusion of the 7pm Mass, when an "overworked" Coelho appeared to have "snapped" following his first four-Mass day since ordination.
"It was very unusual," said gift shop owner Rosie Culkin. "He's usually so calm. But he in came screaming at us saying, 'Is it not written, my house shall be called a house of prayer? But you have made it into a den of thieves.' So I tried to calm him down and tell him that this was just the gift shop and that the house of prayer was about twenty-feet thataway. But he kept flipping everything over, which really sucked cause we have inventory to do tonight."
Culkin went on to say that after also telling [Coelho] that it was not a den of thieves because thieves typically do not come into religious gift shops after Mass ready to purchase religious goods with cash or credit. Coelho told police that he just wanted to make sure they were not selling doves. No charges are expected to be filed.