5 Memorable Moments From Francis' First Year
Pope Francis tweeted "Please pray for me" on his first anniversary as pontiff. A second tweet followed shortly thereafter, reading, "For the young adults who know not how to pray, simply close your eyes and pretend your text messaging Jesus with you brain."
Jorge Mario Bergoglio, the archbishop of Buenos Aires, became the Church's first pope in decades to make practicing Catholics nervous every time he spoke. His name choice was also a first for a pope.
Now, as Rome celebrates, EOTT lists five memorable moments from Francis' first year.
1. POPE FRANCIS KISSES THE FEET OF TWO FEMALE INMATES
Francis washed and kissed the feet of a dozen inmates March 28, 2013 at a detention center in Rome, followed by minutes of dry heaving and spitting on the floor after every foot kissed. Francis celebrated this ritual for years as archbishop and continued it as pope. The fact that two of the 12 were young women was a remarkable choice, leading many biblical scholars to investigate which two of the 12 disciples of Christ were women.
2. ALL CATHOLICS CALLED TO BECOME HOMOSEXUALS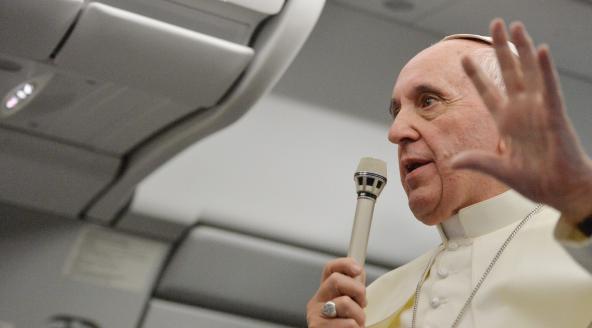 Speaking to reporters on an overnight flight from Brazil, Francis said that "If someone is gay and he searches for the Lord and has good will, who am I to judge." The New York Times later reported that Pope Francis had declared the new ex-cathedra Catholic dogma that all members of the Catholic Church must now become homosexual. They went on to report that those individuals who suffer with heterosexual tendencies are now called to live a chaste life.
3. POPE FRANCIS FIGHTS CRIME AT NIGHT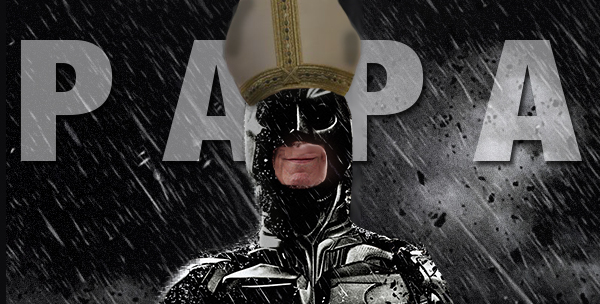 In early December, Swiss Guards confirmed that Francis regularly ventures out at night dressed as Batman to meet with homeless men and women, and to fight crime." The "hands-on project," which involves face-to-face meetings with the homeless and the poor, also incorporates fist-to-face meetings with adversaries.
4. HIS HOLINESS MAY TAKE YOUR ORDER NOW
Shortly after his election to the papacy, Francis took up a graveyard shift at a local 24-hour McDonalds to help the poor. He would be fired shortly thereafter for substituting every order with Filet-O-Fish sandwiches on Fridays. After his firing, Francis told reporters that he had made an bad decision after realizing there was no real meat contained within any McDonalds sandwiches. Big Macs and Double Cheeseburgers are now permitted to be consumed on Fridays during the Lenten season.
5. C-BOMB
Earlier this month, the Holy Father let one final F-bomb out of his system before giving it up for Lent. After letting the F-bomb fly, he told reporters that he has given up many things in his life, but that this would be by far the hardest test because of the sheer incompetence that surounds him at the Vatican. "There are so many times in the day when I look at who I have around me and think, 'Cazzo, look at the way this place is run?' The C-bomb relieves so much stress for me. I feel as though I will have bitten my tongue off by the time Easter comes around," he told EOTT.