Pope Hopes To Strengthen Interfaith Relations In Jerusalem, But Mostly Hoping To Just Stay Alive, Vatican Confirms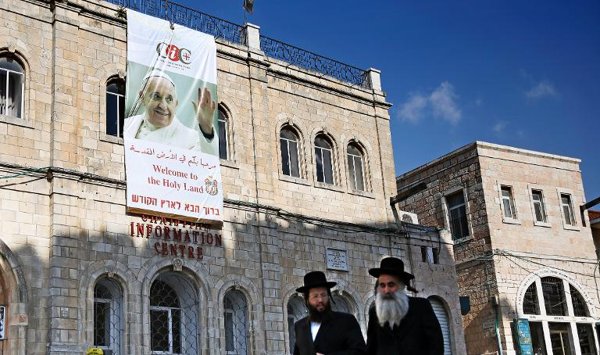 JERUSALEM–Fifty years after the historic embrace between the heads of the Catholic and Christian Orthodox Churches, Pope Francis will become the fourth Pope to visit the Holy Land and try to walk away unscathed.
There he will hold his own private meeting with the Ecumenical Patriarch of Constantinople at the Apostolic Delegation in Jerusalem, where they will sign a declaration promising that the Patriarch won't attempt to poison his glass. His pilgrimage will include the delivery of three masses (said for the intentions of his own life) and a private visit to the Grotto of the Nativity in Bethlehem.
But in addition to inter-Church relations, the Pope will be extending an olive branch to the other Abrahamic faiths that share the land. Accompanying him on the trip will be Rabbi Abraham Skorka and Muslim leader Omar Abboud, who both hail from the Pope's native Argentina, and who could, if needed, be used as shields against a barrage of bullets.
Their packed three-day itinerary, includes a trip to the West Bank, Jerusalem, Israel, and Jordan, where, if you seriously think about it, could turn out to be a trap, like in that one movie where the lead cop in the presidential motorcade leads them into an alley, which turns out to be a trap. And then people on the roof start firing down on them as the music gets all crazy and dramatic and everyone gets killed except for the president.
At press time, the Vatican is announcing that, to address the ongoing Israeli-Palestinian political conflict, Pope Francis will waste his time visiting Palestinian President Mahmoud Abbas and Israeli Prime Minister Benjamin Netanyahu.