Purr-iest Says Meow Culpa At Wrong Part of Cat Mass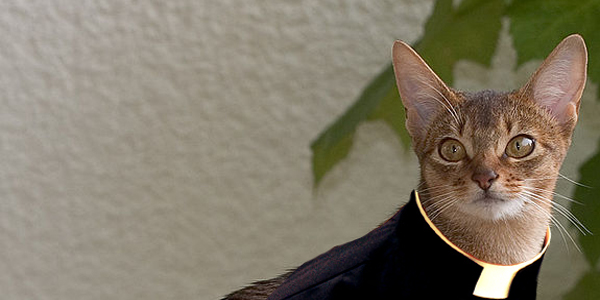 Cat-alina Island, CA–Speaking to his congregation after the 9:00am Cat Mass yesterday, pastor of St. Francis of Assisi Catholic Church in Cat-alina Island, Fr. Bojangles, apologized for having said the Meow Culpa at the wrong part of Mass.
"I've never done that before," a baffled Bojangles told those gathered as he licked his paw over and over again before wiping his face clean. "I'm taking this kinda hard right now be-claws I'm a purr-fectionist."
While many cats in attendance called the mistake "claw-ful," others said that he was fur-tunate to not have made the mistake during the consecration.
"I personally thought it was hiss-terical," said long time parishioner of St. Francis Catholic Church, Caterina Ivanovna, as she raised her butt in the air to stretch. "We need to give Fr. Bojangles some paw-sitive reinforcement right now. I know he's beating himself over this one."
Fr. Bojangles told EOTT that after the incident, he took a moment to paws, closed his eyes, and said a little prayer. "I remember telling one of the Altar Kittens that this couldn't be fur-real. I was in such a daze. 'I mean, you litter-ally got to be kitten me right now,' I remember saying to him, before sarcastically saying, 'this is paw-some…just paw-some.' Anyway, I know that everyone makes mistakes and that God would tail me to relax and not make such a big deal of it. A purr-iest can't have this kind of bad cat-titude."