Students At Indiana University Even More Scared Now Knowing Dominican Praying On Campus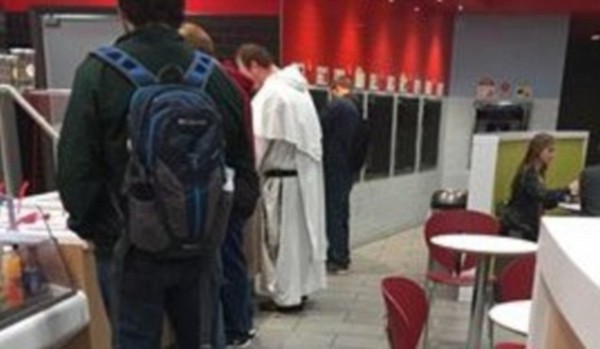 Just a day after students at Indiana University mistook a Dominican for a member of the Ku Klux Klan, students and members of the faculty have been placed on high alert, with fears that the person in question could possibly be a devout Catholic praying on campus.
According to reports, Student Body President Allen Cheung wrote a post on Facebook saying, "There has been a person reported walking around campus in a Dominican outfit holding a rosary. Because the person is protected under first amendment rights, IUPD cannot remove this zealot from campus unless an act of violence is committed, like trying to convince students about the objective truths of Catholicism."
"Please, PLEASE, PLEASE be careful out there tonight," Cheung continued. "Always be with someone, and if you have no dire reason to be out of the building, I would recommend staying indoors lest you be indoctrinated."
Other students also posted their own warnings on social media telling their roommates to keep safe and to remember that priests don't approve of premarital sex or contraception, because of the "extreme hatred they have for anything fun or liberating."
Indiana University officials put out a statement early this morning warning students to take proper precautions when going outdoors.
"We advise that students do not walk alone," the statement read. "If you are confronted by the Dominican zealot, do not look him in the eyes, as this dangerous individual may attempt to convince you that you are a sinner, or worse, make you believe that not everything is acceptable just because it makes you feel good. Furthermore, should you run into this medieval time traveler, please remember atrocities he committed during the Spanish Inquisition, and that he has been trained in the art of manipulation and torture. If you are accused of being a witch or a Jew, admit nothing, and run to the nearest safe-space and call for help."