Dolan, Jenky To Settle Dispute Over Sheen Remains In Octagon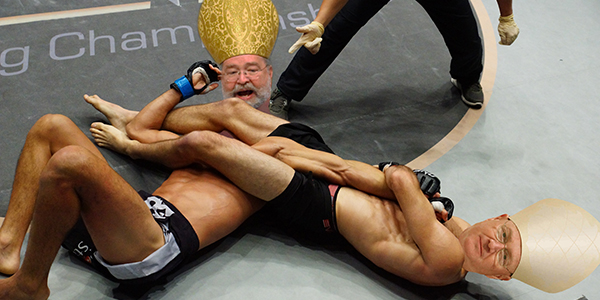 A verbal battle between two Catholic leaders over the body of legendary Archbishop Fulton Sheen has put the former television personality's sainthood campaign on hiatus.
The bishop of Peoria,  Illinois, Bishop Daniel Jenky, has been working to beatify Sheen for some time, but all that came to an unexpected hiatus this week when Cardinal Timothy Dolan of New York reportedly told Jenky to "Back up before you gets smacked the heck up."
In a letter to Jenky, the New York archdiocese issued a statement saying that Dolan opposes the "dismemberment of the Archbishop's body" for the purpose of collecting relics, and concluded it by inviting Jenky "if he so dared," to try to take even one step on "Dolan's turf."
Spokesman for the New York Diocese John Frank told EOTT today that Dolan was saddened by accusations leveled on him by the Peoria bishop, and said that since Jenky was "itchin' for a stitchen'," that the New York Diocese would accommodate him and set up a bare knuckle, mixed martial arts throw down in the octagon.
Even the Vatican office that oversees the creation of saints hasn't been able to resolve the unusually public dispute between New York and Peoria, but have shown a lot of interest in the MMA fight between the two bishops.
Peoria Diocese spokesman Donald Walters told reporters today that Jenky has accepted the challenge, and cautioned Dolan against instigating Jenky anymore than he already has, saying that Dolan would do well to "check himself before he wrecks himself" because Jenky is reportedly "bad for his health."