Pope Emeritus Benedict on Papal Interviews: "The Concept of Preventive Clarifications is Not in the Catechism"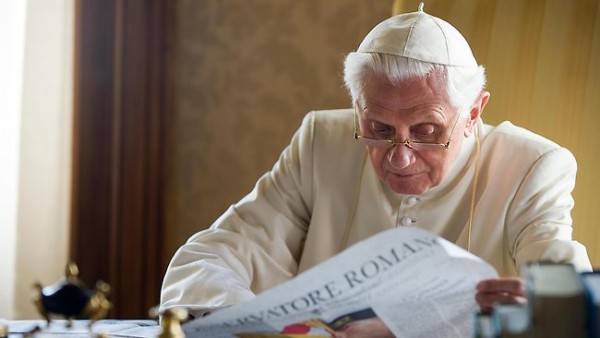 Speaking to journalists at his residence inside the Vatican this morning, Pope Emeritus Benedict answered journalists' questions concerning the currently debated question of whether or not the use of preventive clarifications is acceptable for Papal interviews.
"It is important not to attribute simplistically the comments made by the Pope during many of his off-the-cuff interviews to error," Benedict said. "That would be a great inaccuracy. It is true that the history of this Pope contains a tendency to say random things that seem to anger some traditional Catholic sensibilities, but the fact is that he has not gone against the traditions of his predecessors."
A  journalists from EOTT pressed him, asking the former head of the Catholic Church if the Catechism of the Catholic Church permits "preventive clarifications" in exceptional cases.
"The concept of preventive clarification does not appear in the Catechism," Benedict stated, adding in clarification, "We cannot simply say that the Catechism does not justify clarifications of what Francis is going to say, but it is true that the Catechism has developed a doctrine which on one hand does not deny that man does have free will, that the Pope is a man, and therefore he, as man, can say things without considering how quickly the media can and will jump on anything he says without a second thought. The problem that we face, of course, is that Francis does not stick to script, but rather, tends to trail off into a wide variety of topics, so that even if we can justify preventive clarifications, how could the Vatican know beforehand when it's time to clarify a yet-to-be-said statement, or what it is exactly that they are about to clarify? These are many of the questions that must be discussed."